Covered in classic vanilla swiss meringue buttercream, this vegan vanilla cake is flavourful, very moist, and hella versatile.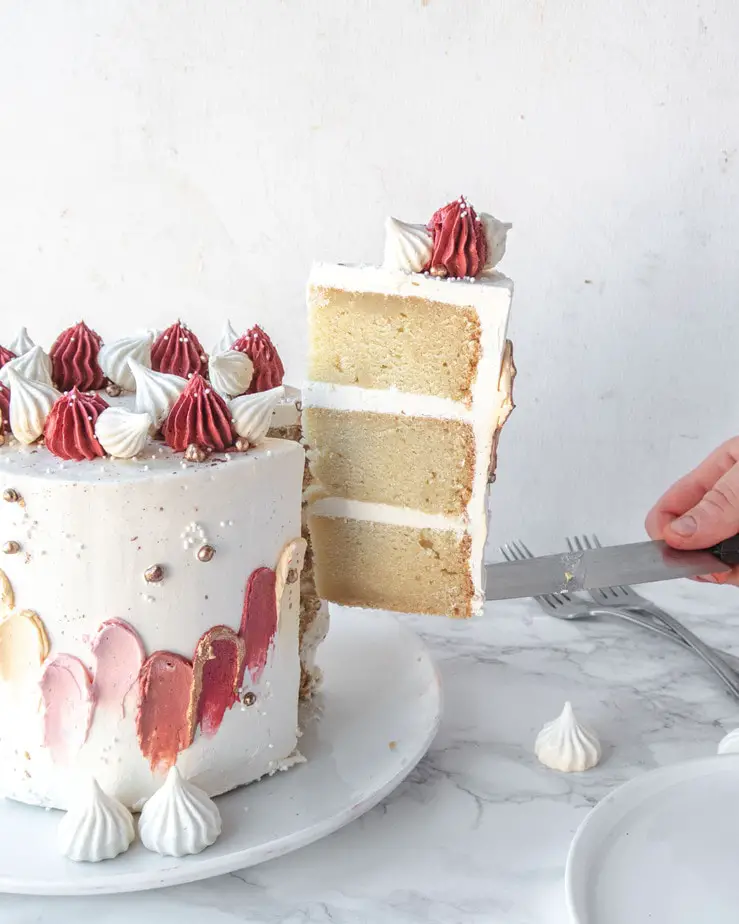 If you have never used aquaflaxa or the reverse creaming method, I highly recommend you continue on reading this blog post. For the others, feel free to skip right ahead to the recipe.
---
Moist + Tender vegan vanilla cake
With its tight crumb, buttery flavor profile, and white appearance, this cake is now THE recipe I would use for any wedding cakes that comes my way ( even though I don't do much of those anymore).
The tender crumb is achieved by using both oil and vegan butter in the cake batter, but the cake is sturdy enough to be stacked for mile-high cakes, or even tiered cakes ( with proper supports of course).
I know it can sound cliché and that most people don't like when I use this word, but this vegan white cake is flavorful and very moist. It's is one of those recipe collection keepers that you can spice up with different flavors.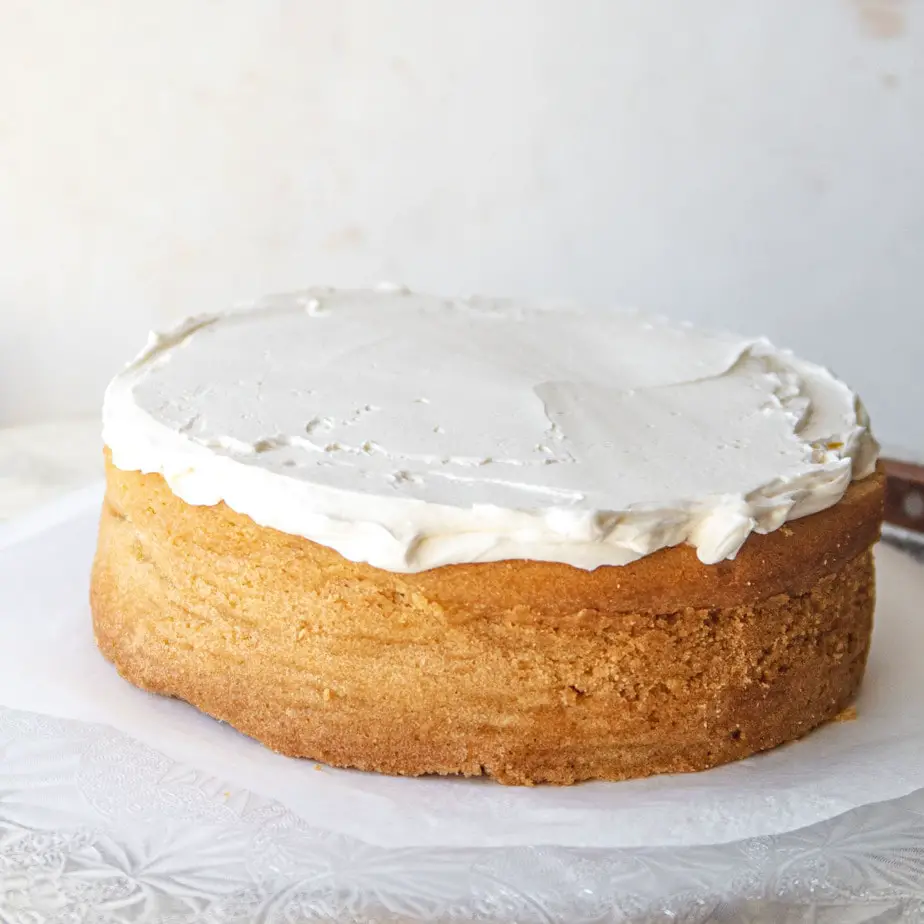 Ingredients
What is aquaflaxa?
Aquaflaxa is a vegan egg substitute that is made out of water and flax boiled together to make mucilage. Aquaflaxa gives structure and humidity to baked goods, and in comparison to regular flax eggs, it doesn't leave flax specks behind, which is perfect for a white cake.
For a deep dive into aquaflaxa, feel free to check out this comprehensive guide that I made about this amazing egg replacement.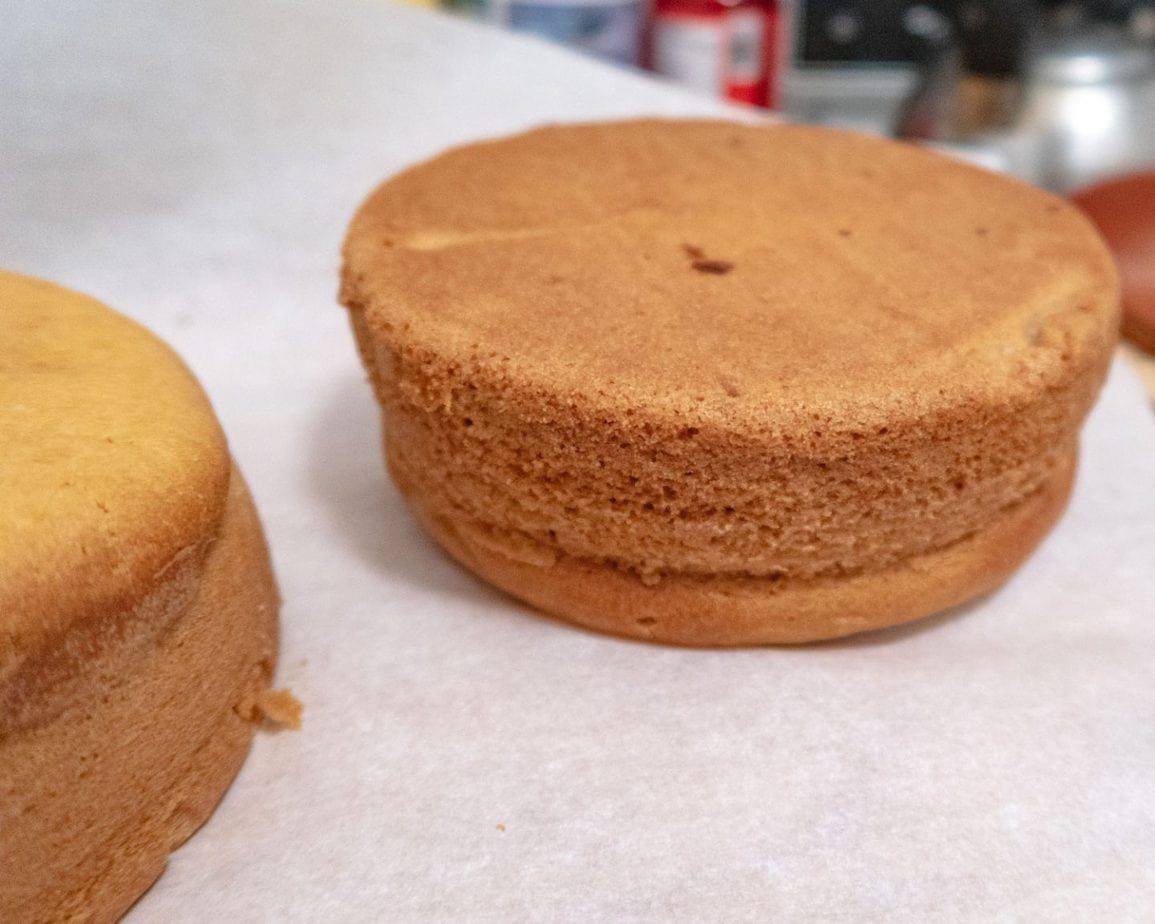 Why use potato starch?
Potato starch provides structure and tenderness to the crumb of this cake. If you do not have potato starch on hand, I do not recommend replacing it with cornstarch, but tapioca starch could do in a pinch.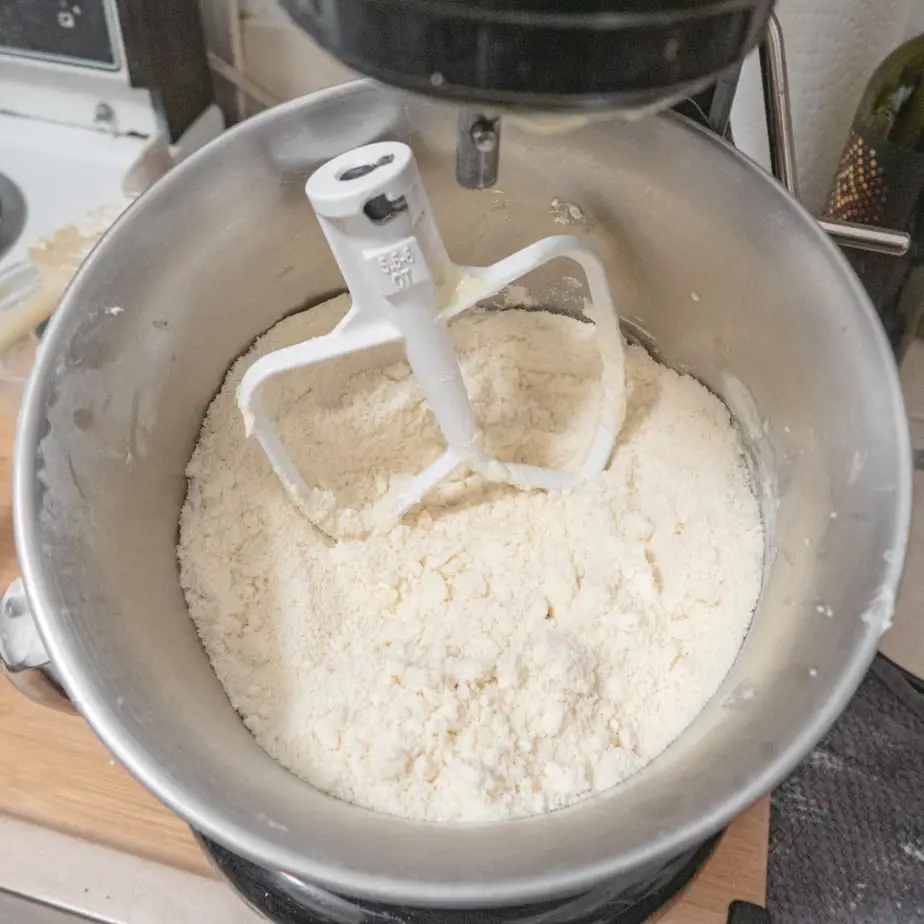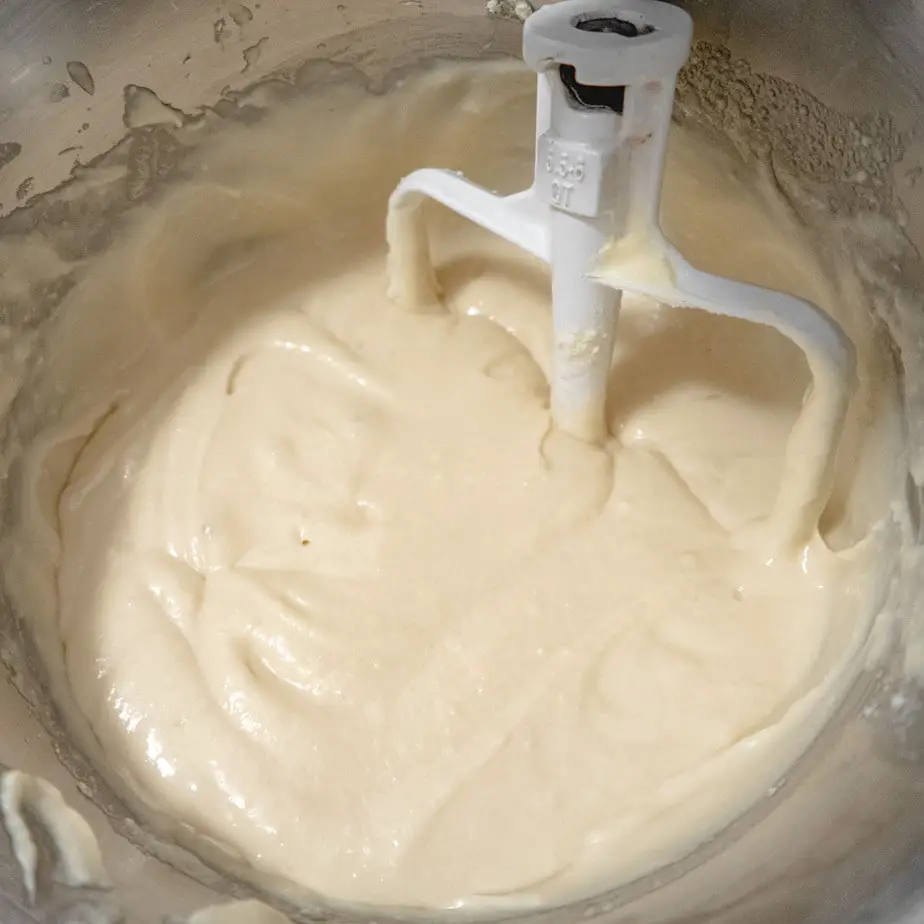 Method
Reverse creaming method
This recipe might be slightly different than what you are used to. This vegan vanilla cake uses a reverse creaming method to get a fine crumb that is tender. 
Reverse creaming means that the butter is added to the dry ingredients instead of being creamed with sugar. It makes the dry ingredients sandy a bit, and then we add the wet ingredients to the dry all at once and mix.
This method coats the dry ingredients in fat, which prevents the over-formation of gluten. Gluten is the protein found in flour and is what can make a cake dense and gummy. I also like that when I'm using this method, I rarely get any lumps in my batter.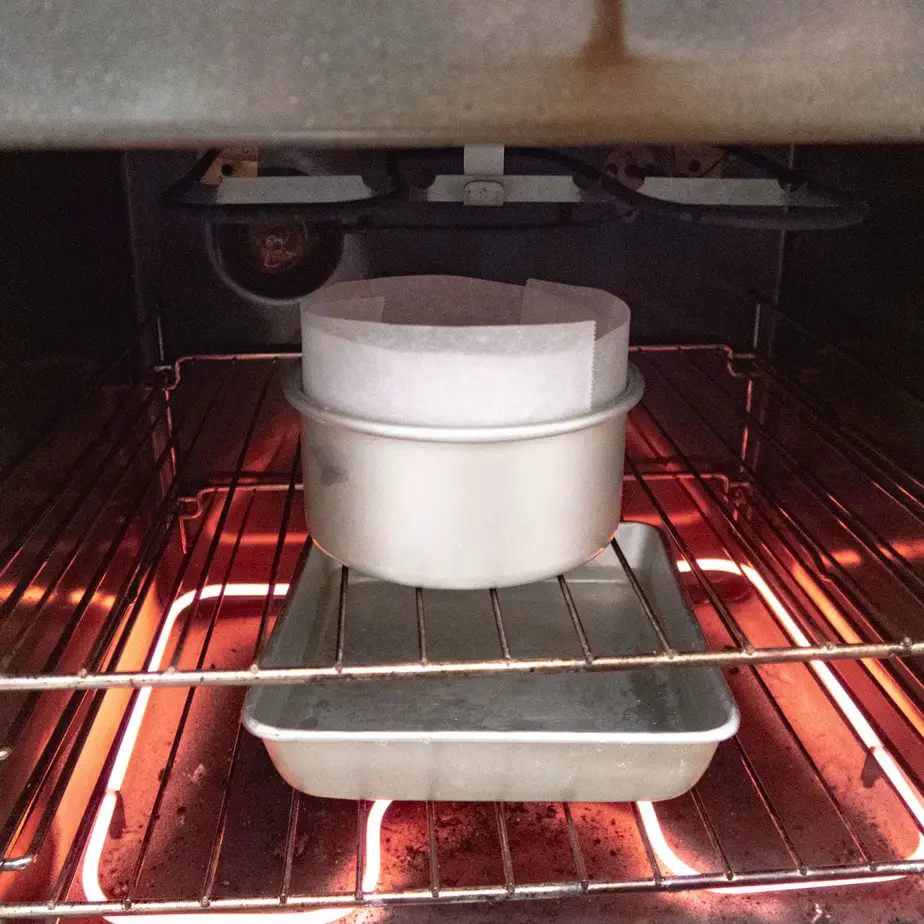 Adding water to the oven? 
I find that adding a dish of water in the oven during the cooking process reduced the amount of caramelization on the outside of the cake, due to the steam that it creates. But if you have cake strips at home, I recommend simply using those.
Remember that using cake strips might change slightly the amount of baking time. Each oven is different and baking times might vary because of it. Use baking times as a guideline, always testing and adjusting as needed, and know your oven.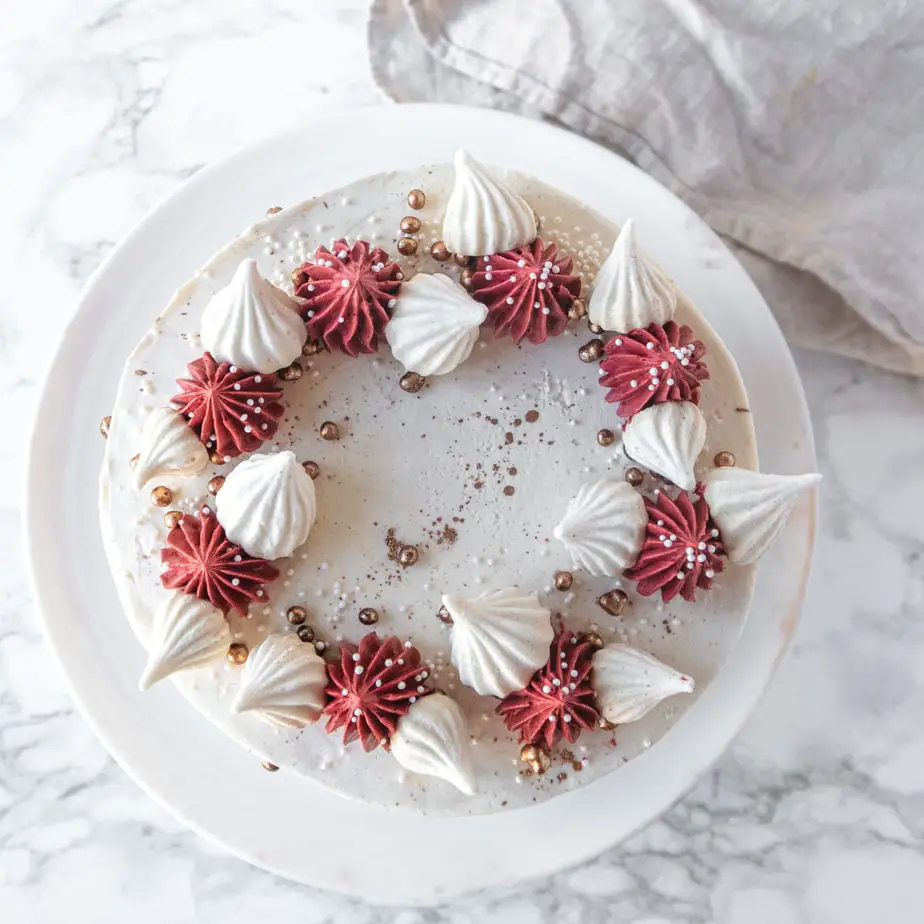 How to get deeply colored icing
Here are some tips and tricks to get highly saturated colourful icing.
Use gel icing like Wilton. They are more concentrated and have a lower risk of making your buttercream split, and they will not thin out your icing.
Color your icing in advance. The color of icing will deepen with time so make your icing a day (or more) in advance.
Use the microwave method: Take up to a ¼ cup of icing, place it in a microwavable bowl. Add gel food coloring until you reach the desired color and microwave for 5 to 15 seconds, or until the buttercream is slightly liquid and the color has deepened. Add the colored buttercream to some plain buttercream and mix until incorporated.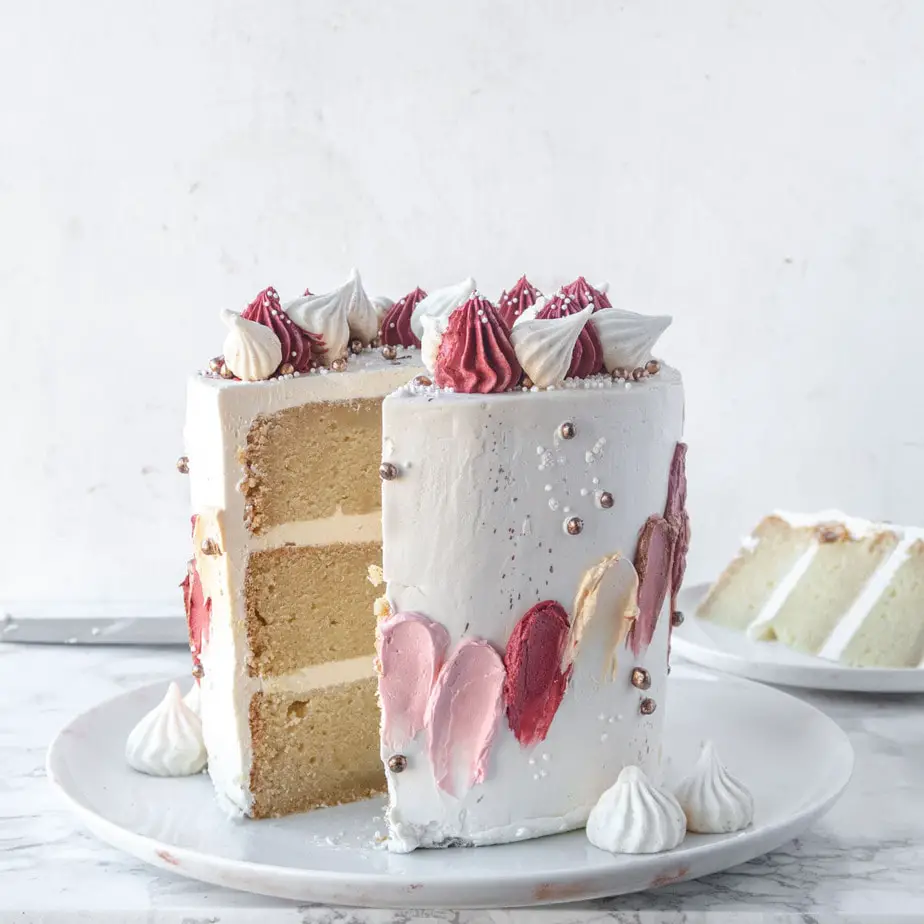 Tips and tricks
Make sure all your ingredients are at room temperature. You should be able to smush your thumb fully into the butter.
Cool the cake layers completely before slicing because it gives neater slices that crumble less. It also prevents cracking.
Use clear vanilla extract if you are trying to get that distinctive almost cake-box like flavor while still keeping a white color.
If you are using a stand mixer, use a paddle attachment to make this cake.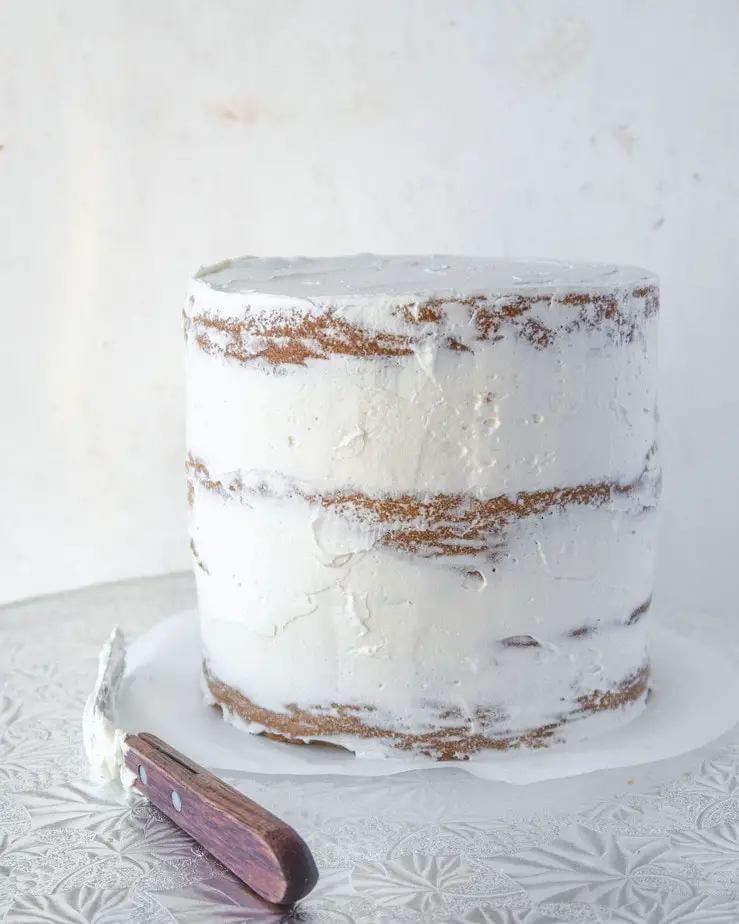 How to get a smooth icing
Cover the outside of the cake as usual and when you get to do that last smoothing of the outside, use a sharp-edged metal cake scraper (or bench scraper), run it until hot water, wipe off the excess water and smooth out the cake.
The heat will slightly melt the butter and will give your cake a nice smooth finish, especially if you are using Swiss meringue buttercream.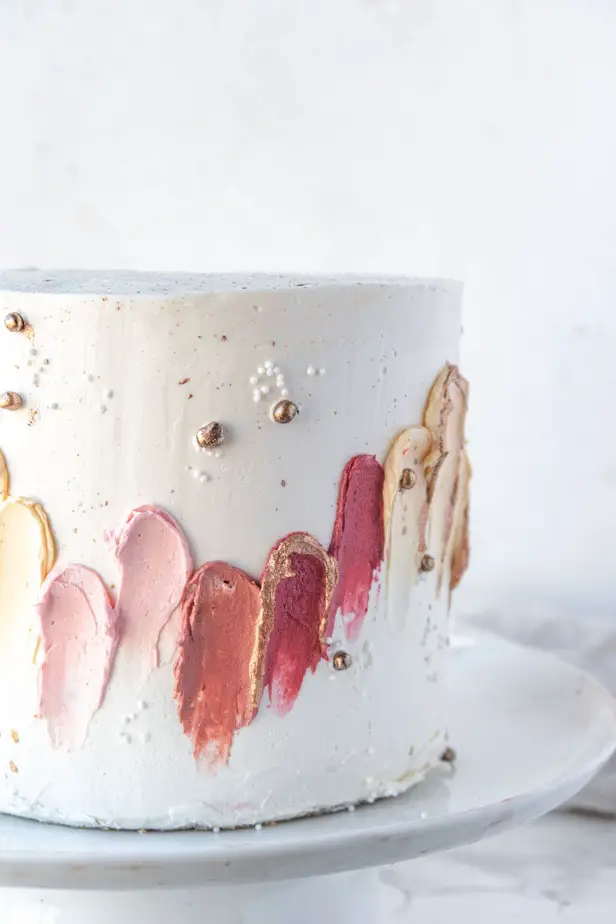 How to decorate this cake?
Starting with a cold and firm cake, place it on the edge of a board or cake turntable so that you are free to go on a downward motion without encountering obstacles. Pick up about a teaspoon of colored icing (a little goes a long way) on an offset spatula and in one fluid motion, place it on the cake and drag it vertically on the edge of the cake, trying to not reach the plain buttercream underneath.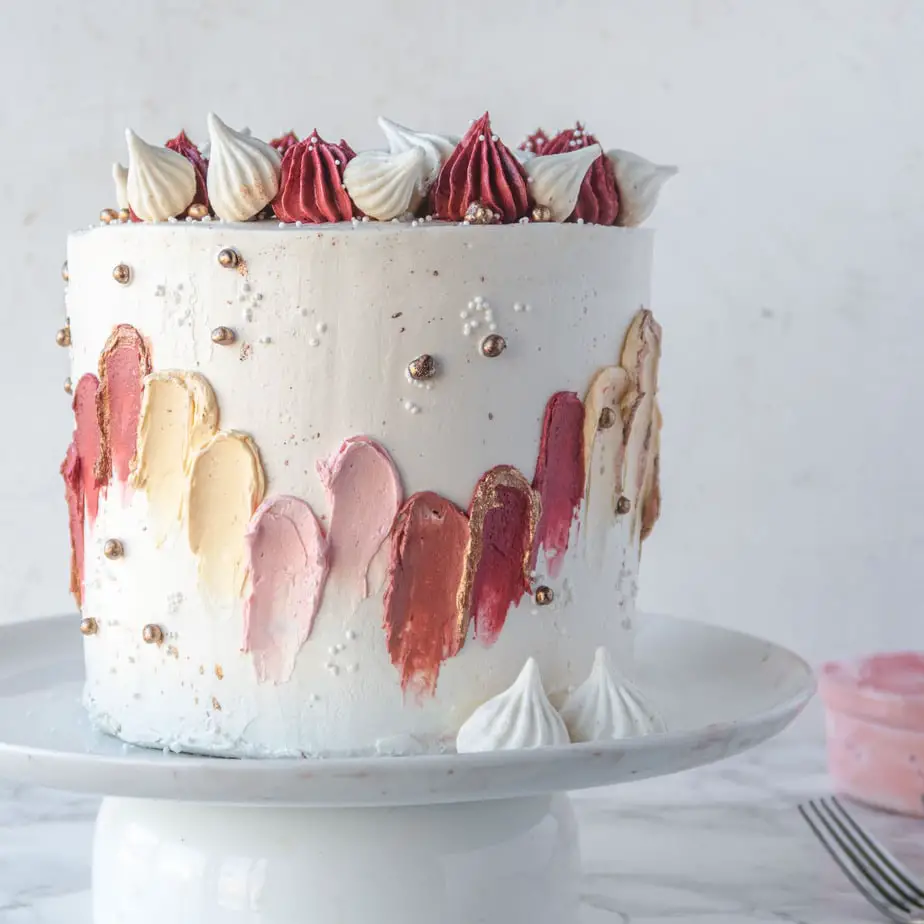 Splatter some copper luster dust mixed with alcohol on the side of the cake with a stiff brush. Add some of your favorite sprinkles on the sides and top. Pipe some colored buttercream to mark cake portions and add dehydrated mini meringues on top.
The design of this cake was inspired by Soul Cake Shop. Go check them out on Instagram. They are awesome!
Recipe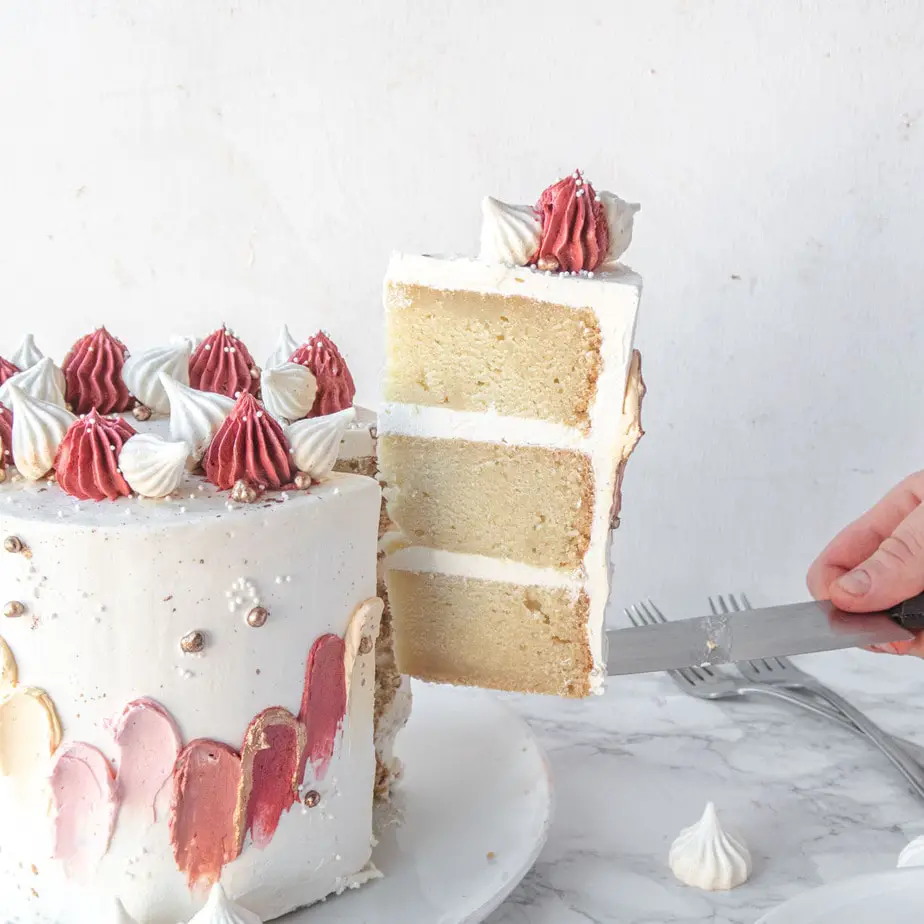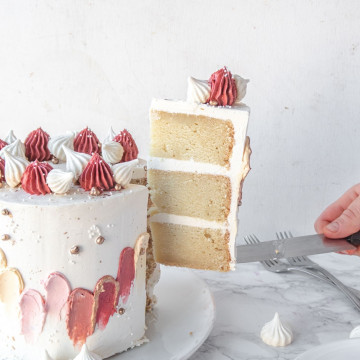 Print
Moist and Tender Vegan Vanilla Cake
Servings
1
tall 6-inch cake
Ingredients
Dry ingredients
660g

(5 ½ cup)

unbleached all-purpose flour

40g

(¼ cup)

potato starch

, also known as potato flour

400g

(2 cups)

white granulated sugar

14g

(1 tbsp)

baking powder

5g

(1 tsp)

baking soda

6g

(1 tsp)

fine sea salt
Wet ingredients
180g

(¾ cup)

vegan unsalted butter

, I recommend using Becel plant-based bricks

177g

(¾ cup)

light-tasting vegetable oil

, I use canola oil

10g

(2 tsp)

white vinegar

560g

(2 ¼ cups)

plant-based milk

, I use soy milk

165g

(⅔ cup)

aquaflaxa

65g

(¼ cup)

plain vegan yogurt

12g

(1 tbsp)

clear vanilla extract
Instructions
Cake
Preheat your oven to 325°F (165°C) and place a casserole dish filled with 1 to 2 (2.5 to 5 cm) inches of water on the bottom rack of your oven.

In a large bowl, sift together all the dry ingredients.

Add the soft room temperature butter to the dry ingredients and with an electric mixer on low speed, mix into the flour until you reach a crumbly and sand-like texture, about 1 minute.

Add the rest of the wet ingredients all at once and continue mixing on low until there are no more dry ingredients left. Scrape the sides of your bowl with a silicone spatula from time to time to dislodge any dry ingredients stuck to the side of the bowl. Do not overmix.

Divide the batter equality between three 6-inch cake tins ( approximately 730g of batter per tin) that are lined with parchment paper or greased with a mixture of oil and flour. Tap each filled cake tin against your countertop 3 to 5 times to release any trapped air bubbles.

Bake the cakes in the middle rack for aproxiamtly 1 hour, or until a toothpick inserted in the middle of the cake comes out clean and free of crumbs.

Let the cakes rest in the tin for 5 to 10 minutes, before inverting the cakes on top of a wire rack and leaving them to cool completely. Once cooled, completely wrap in plastic wrap and refrigerate until the cakes are cold to the touch, approximately 4 hours or overnight.

With a sharp serrated knife, trim the bottom and top of each cake layer to make even and flat layers.
Decorating
On a cake board or drum, add a small dab of icing to act as glue and place your first cake layer. Add a small layer of frosting on the cake, level it out with a small offset spatula, and add the next layer of cake on top. Continue filling and layering the cake until complete.

Using a straight metal spatula, crumb coat the whole cake by filling any gaps with icing, spreading a thin layer of icing all over the cake, and smoothing it out. It is ok if the cake layers are showing through. Refrigerate the cake until the crumb coat is firm, about 1 hour.

Add a fresh layer of icing on top of the crumb coat and smooth it out using a metal spatula, bench scraper, or cake scraper. Refrigerate until cold and firm.

In 5 different bowls, add ⅓ cup to ½ cup of icing, and color with your favorite gell icing. With a square pastry brush, pick up a small amount of icing on the tip of the brush, about 1 tsp, and drag it lightly over the iced cake in your desired pattern.

Add your favorite sprinkles or dragées to the cake before serving. Enjoy!
Notes
All the ingredients need to be at room temperature
Best eaten the same day. Keep in the refrigerator until ready to eat, then pull it out 1 hour before serving to let the cake come back to room temperature.
Can be frozen for up to 2 months.
I had about ¼ cup of icing leftover, so if you like to heavily ice your cakes, prepare 1 ½ recipe of Swiss meringue buttercream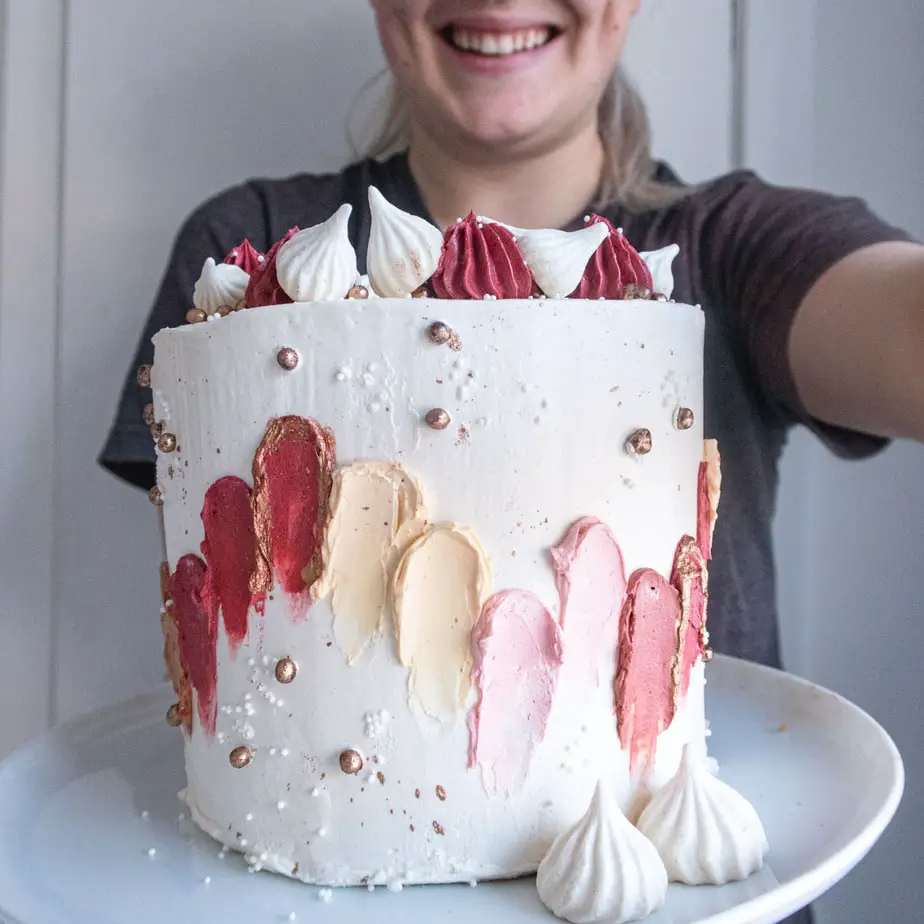 Did you try this vegan cake recipe?
Don't be shy and let me know how it went! Leave me a comment below and share a picture on Instagram !