This light (and not overly sweet) plum and almond vegan clafoutis is an easy summer dessert that is perfect for a beginner baker. This rustic dessert will take a couple of minutes of your time at best, and will make any summer fruits from the farmer's market shine.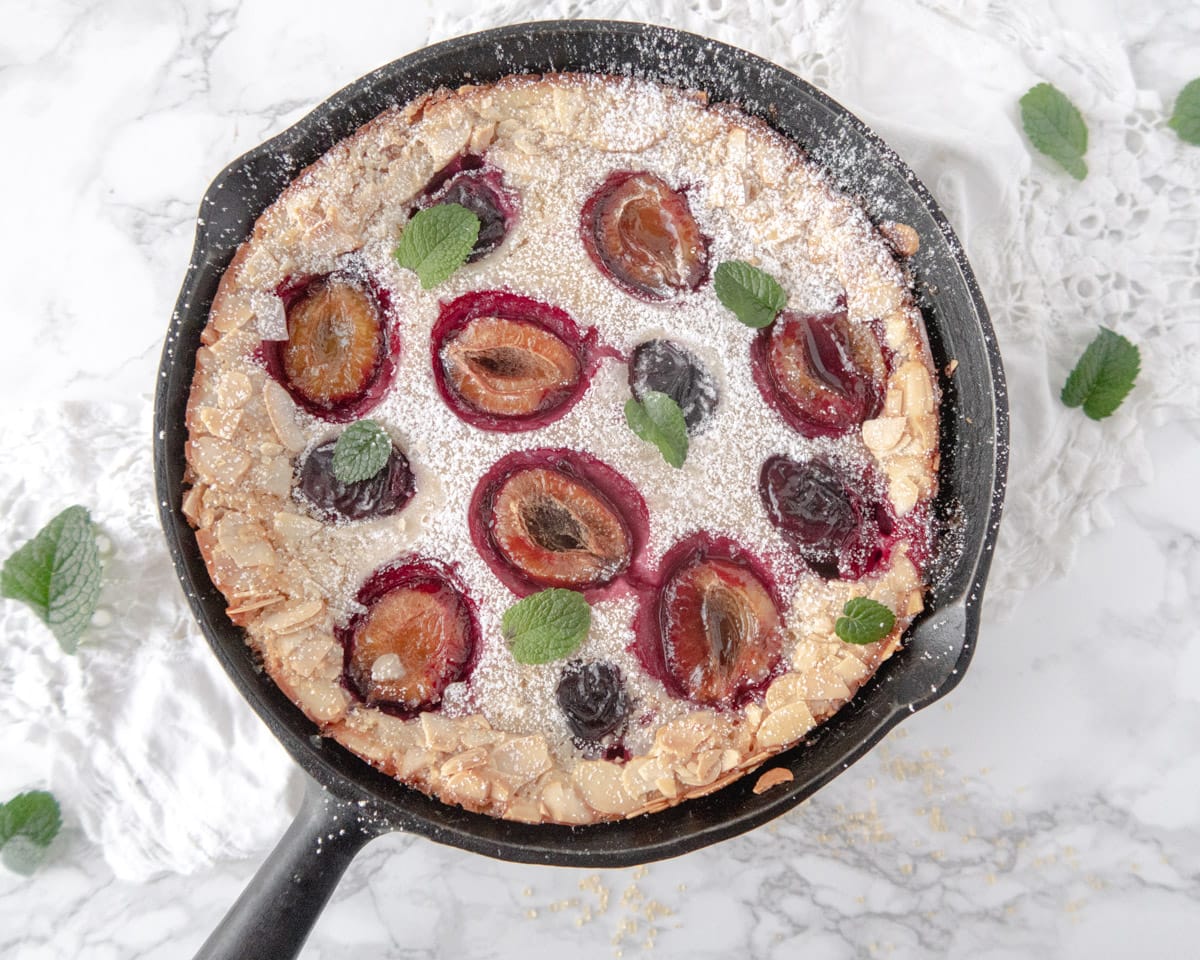 I promise that this blog post has no personal life chit chat but if you want to, you can still skip straight to the recipe!
---
What is a clafouti
A clafouti is a classic rustic French dessert made of a thick baked custard (a bit like a flan) and fruits. Traditionally, it is made with whole cherries (yes with the pit still in it). But since I had an abundance of Italian plums, I decided to switch things up a bit.
It is a very easy dessert that any beginner baker can make in just a few minutes and with just a few simple tools. It is also very customizable.
By the way, Clafoutis is pronounced like kla-foo-tee.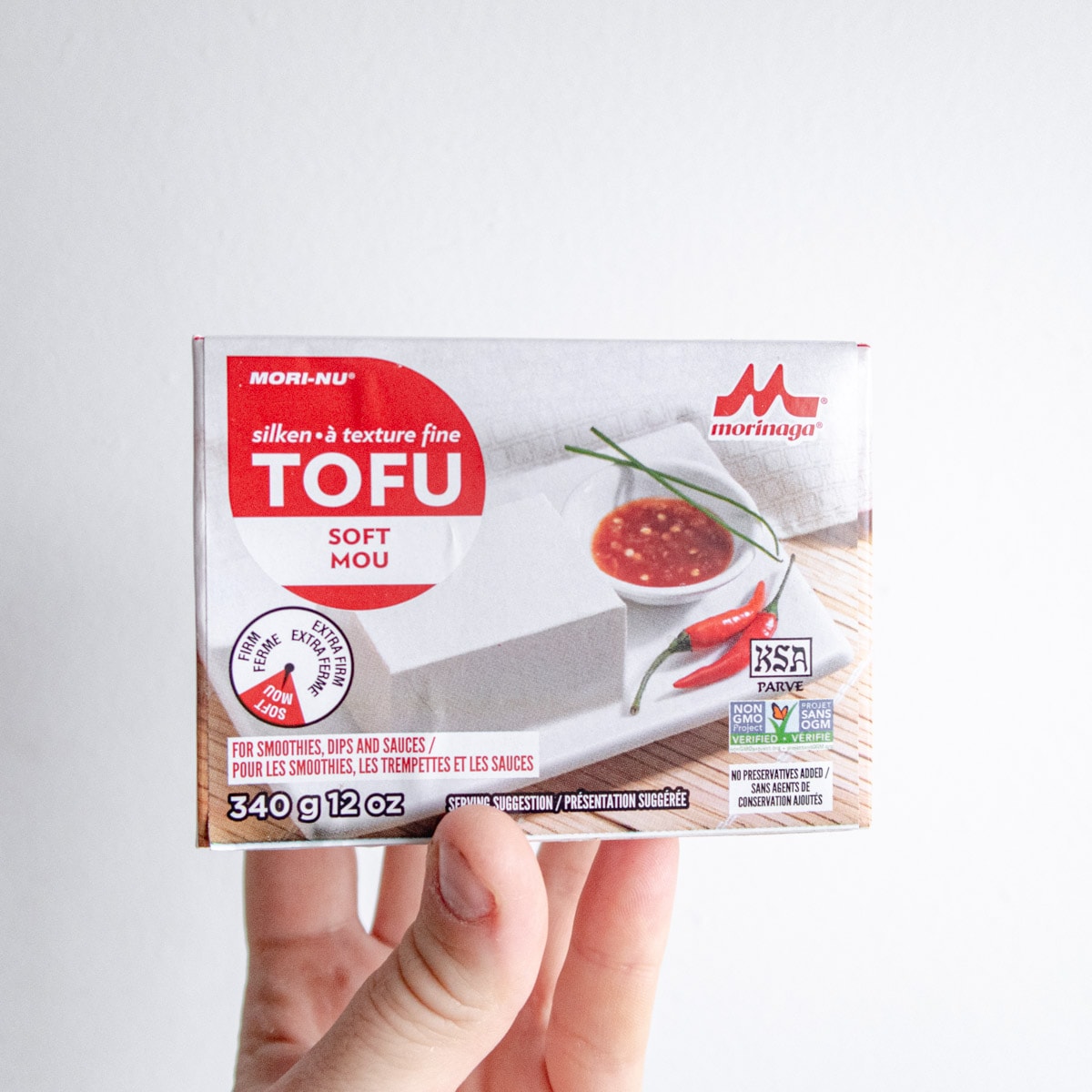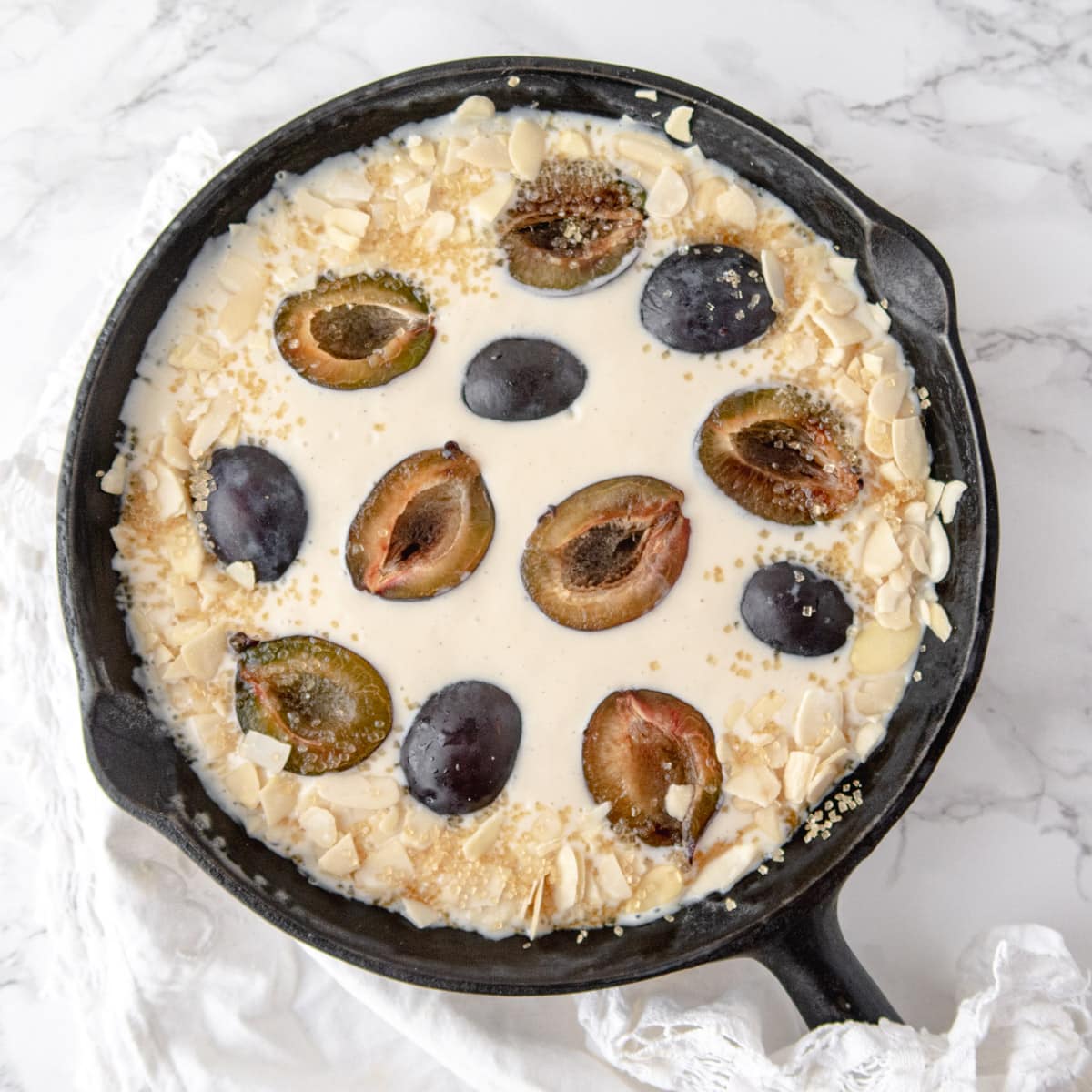 Clafoutis veganized
Clafoutis is usually an egg and dairy-heavy dessert but in this case, we have replaced those ingredients with silken tofu. 
You can use your favorite brand of tofu if you want but I love using the Mori-nu brand. The containers of Mori-nu tofu are exactly the amount of tofu needed in this recipe and it is shelf-stable. So I always keep a pack or two of this stuff in my pantry and that way I always have a dessert option at a moment's notice.
RELATED: Garnish this vegan clafoutis with homemade vegan chantilly (AKA whipped) cream.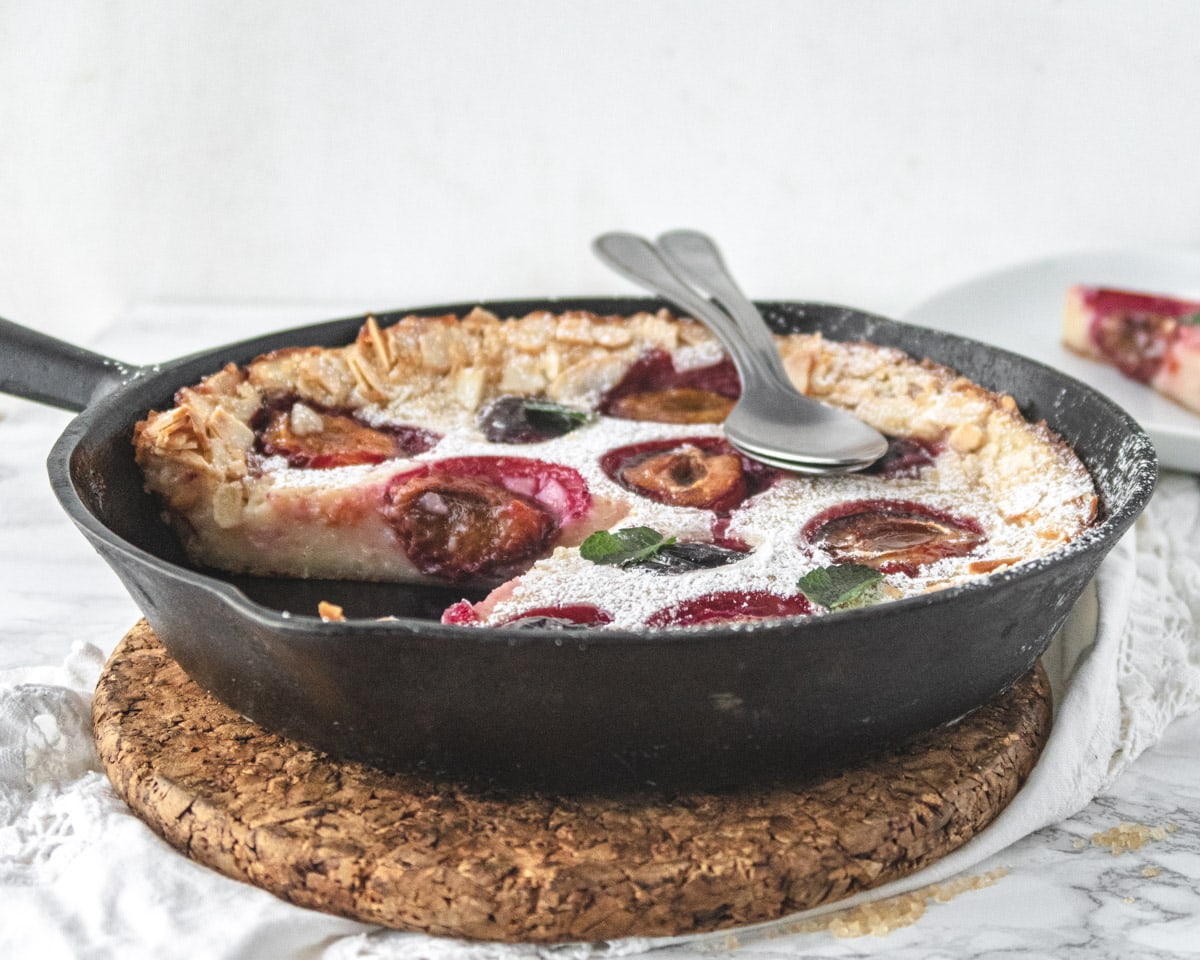 Fruit alternatives
The beauty of this vegan clafouti is that it is easily customizable. Try these other fruits to change things up.
Make it a classic! Use whole cherries but don't forget to warn your diners that the pits are still there. No one wants a broken tooth.
Stone fruits, like apricots, nectarines and peaches look awesome with this recipe.
Try using berries like fresh raspberries or blueberries.
Top with sliced or roughly diced pears.
You could also replace the brown rum in the recipe with brandy or even amaretto. If you don't drink alcohol, or if you are serving this to kids, feel free to simply omit the booze from this recipe.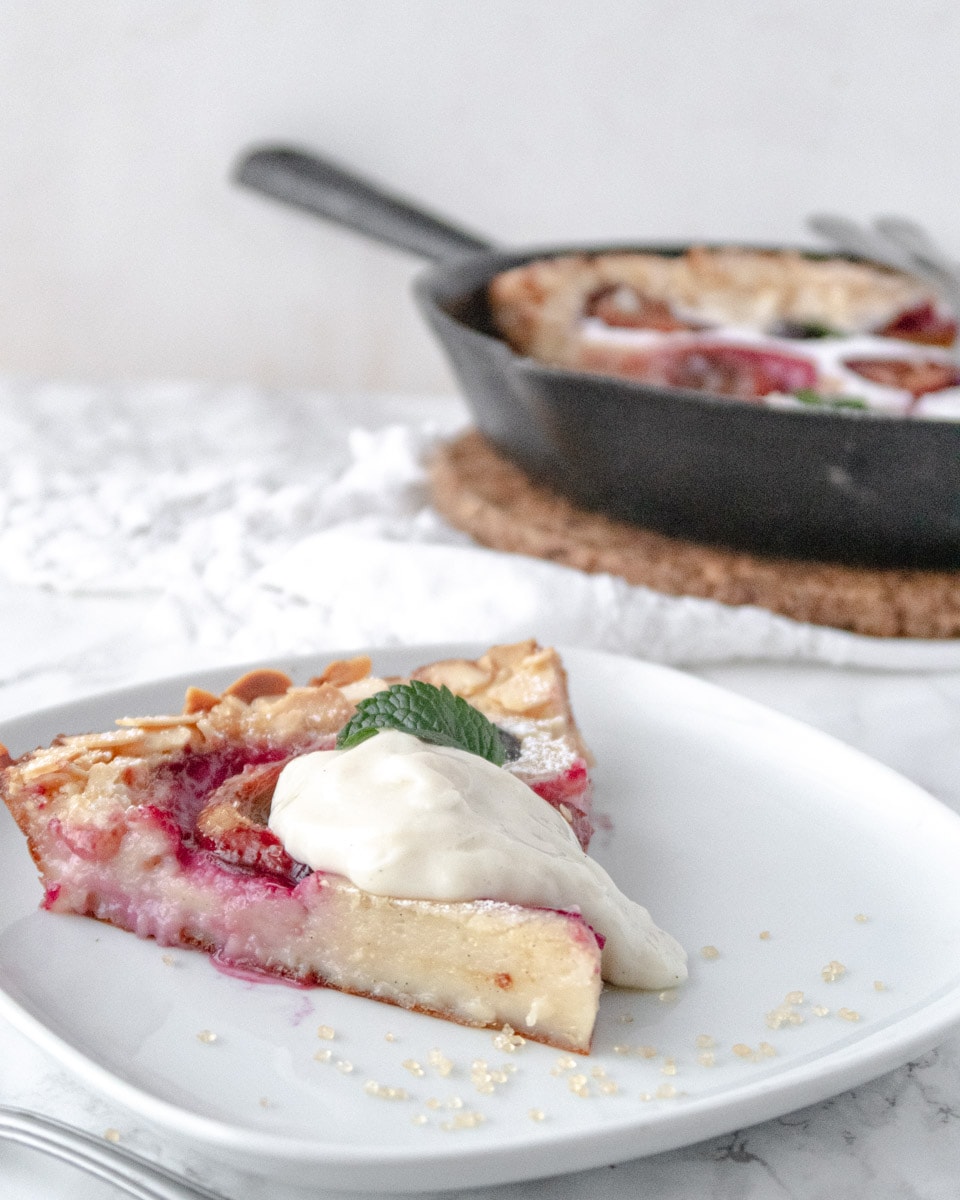 Tools
This easy vegan clafoutis recipe uses very few tools that you probably already have in your kitchen.
Full-sized countertop blender. You can use a tall container and an immersion blender in a pinch.
9-inch cast iron skillet, or you can use a pie plate
Silicone spatula
paring knife, to cut the plums in half
Recipe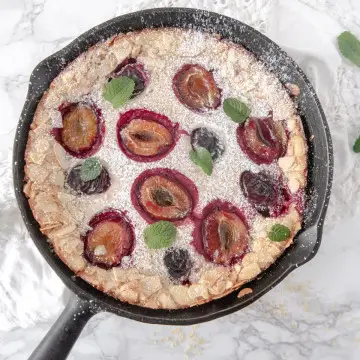 Print
Plum and almond vegan clafoutis
This light and not overly sweet  plum and almond vegan clafoutis is an easy summer dessert that is perfect for a beginner baker.
Ingredients
Clafoutis batter
340 g

( 1 ⅓ cup)

drained silken tofu

,or 1 pack of Mori-nu brand tofu

100 g

( ½ cup)

white granulated sugar

28 g

(2 tbsp)

melted vegan margarine + extra for the skillet

4 g

(1 tsp)

almond extract

2 g

(½ tsp)

vanilla bean paste

, or vanilla exctact

⅛

teaspoon

fine sea salt

14 g

(1 tbsp)

brown rum

,optional

45 g

(⅓ cup)

cornstarch

,also known as cornflour

30 g

(¼ cup)

unbleached flour
Garnish
8

ripe italian plums

,halved and stone removed

Sliced almonds

turbinado sugar

,or another coarse sugar

powdered or icing sugar
Instructions
Preheat your oven to 350°F ( 180°C), and liberally coat a 9-inch cast iron skillet with margarin.

Place all the clafouti batter ingredients in order they appear in the bowl of a blender. Blend for 1 to 2 minutes or until smooth and homogenous. Do not overblend.

Transfer the clafoutis batter into the prepared skillet and smooth out the top with a flexible silicone spatula. Slightly tap the skillet on your countertop to remove any air bubbles in the batter

Place the half plums on top of the batter and sprinkle some sliced almonds and turbinado sugar on the outside edge of the clafoutis,

Bake for 35 to 40 minutes, or until a toothpick inserted in the middle comes out clean. The clafouti will still feel slightly jiggly in the middle and the edges should be slightly golden.

Let the clafouti cool down at room temperature for a minimum of 5 minutes before cutting it into slices. Lightly dust with powdered sugar, and/or garnish with a spoonful of vegan whipped cream. Enjoy!
Notes
Can be eaten warm or cold
Best eaten the same day.
I do not recommend freezing or refrigerating a clafouti as it will dry out and become hard.
Did you try this clafoutis recipe?
Don't be shy and let me know how it went! Leave me a comment below and share a picture on Instagram !