These vegan savory rolls are stuffed to the brim with jalapeno popper flavors. Soft buttery dough and creamy, crunchy, and spicy filling will have you wanting more.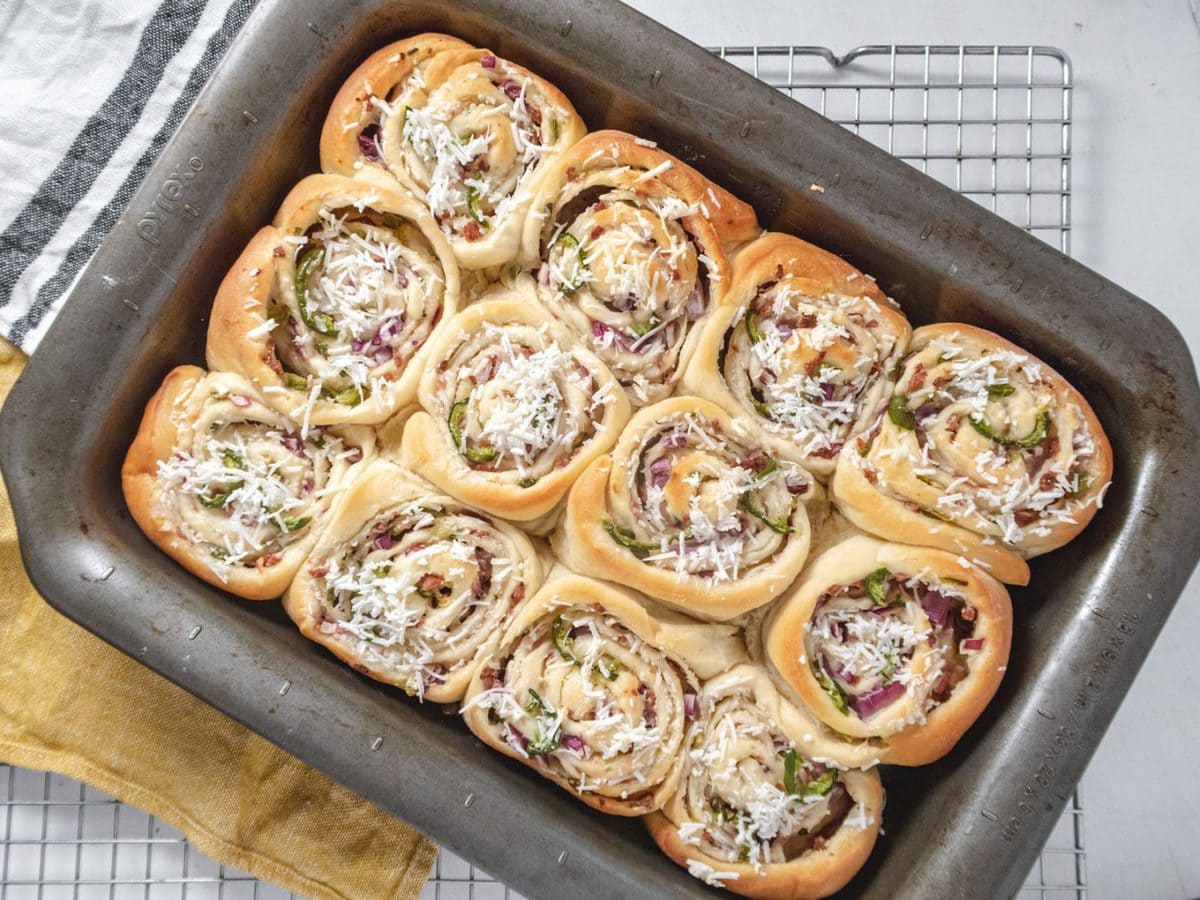 If you have made cinnamon rolls in the past, feel free to skip straight to the recipe.
---
Vegan jalapeno popper rolls
These savory Jalapeno popper savory rolls have all you could expect from your favorite appetizer, all vegan of course!
Creamy cream cheese filling
Some crunch — Hello bacon bits and red onions!
A nice little heat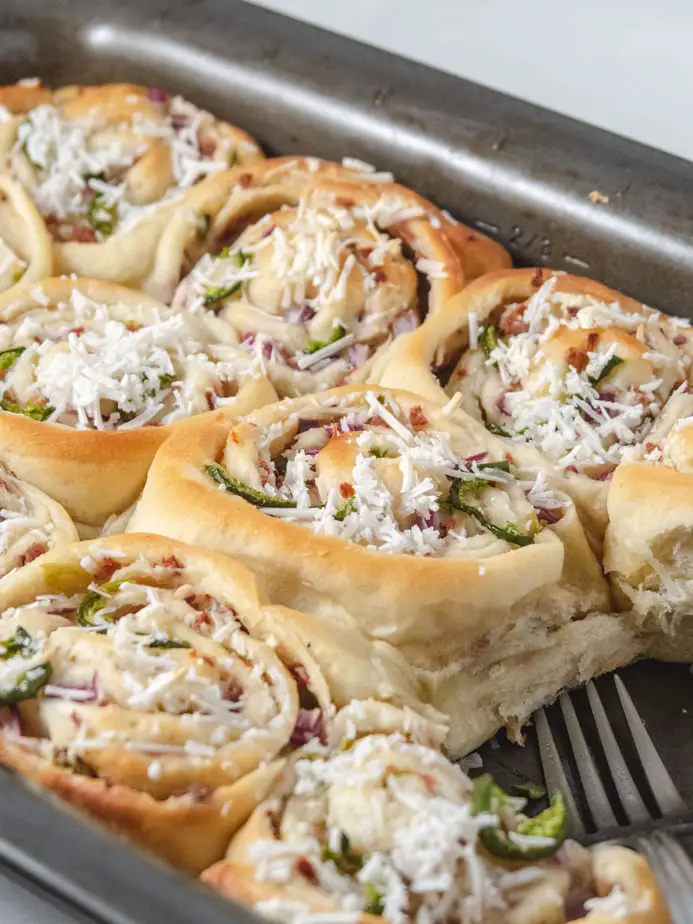 But my favorite part of these rolls is the soft and buttery roll. Serve these vegan jalapeno savory rolls as an appetizer or dinner roll. They also make great snacks for your next super bowl or served miniaturizes as hors d'oeuvre. 
Also, from my personal experience, they make a great bribe for that jalapeno popper fanatic friend that could give Jason Mendoza a run for his money. 😉
RELATED: For a sweet and cinnamony extra special roll, go take a look at my other (18+ only) blog The Loud Bowl.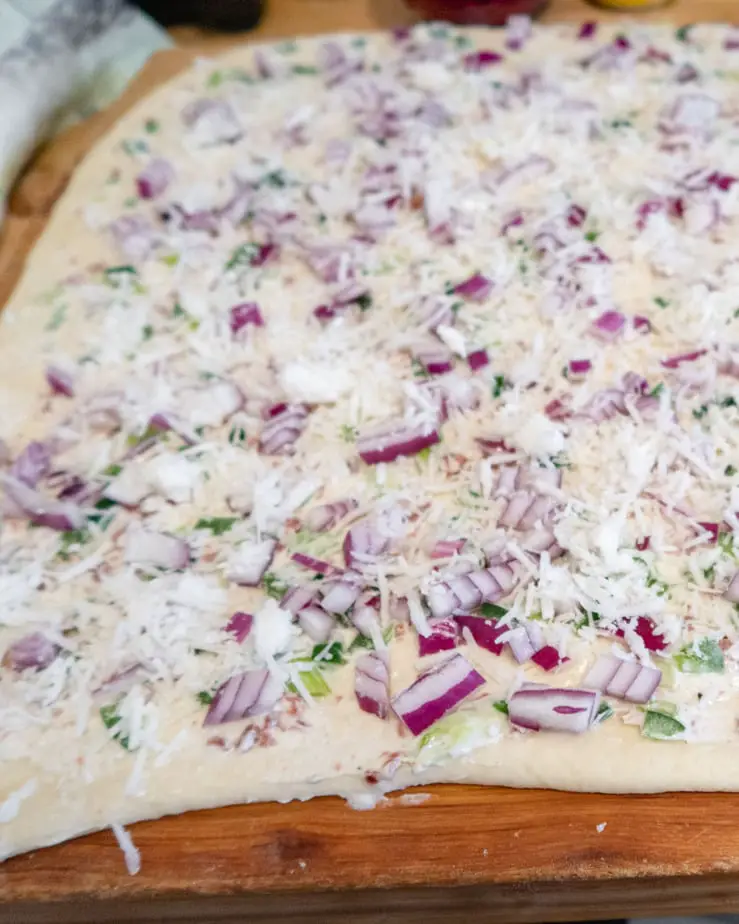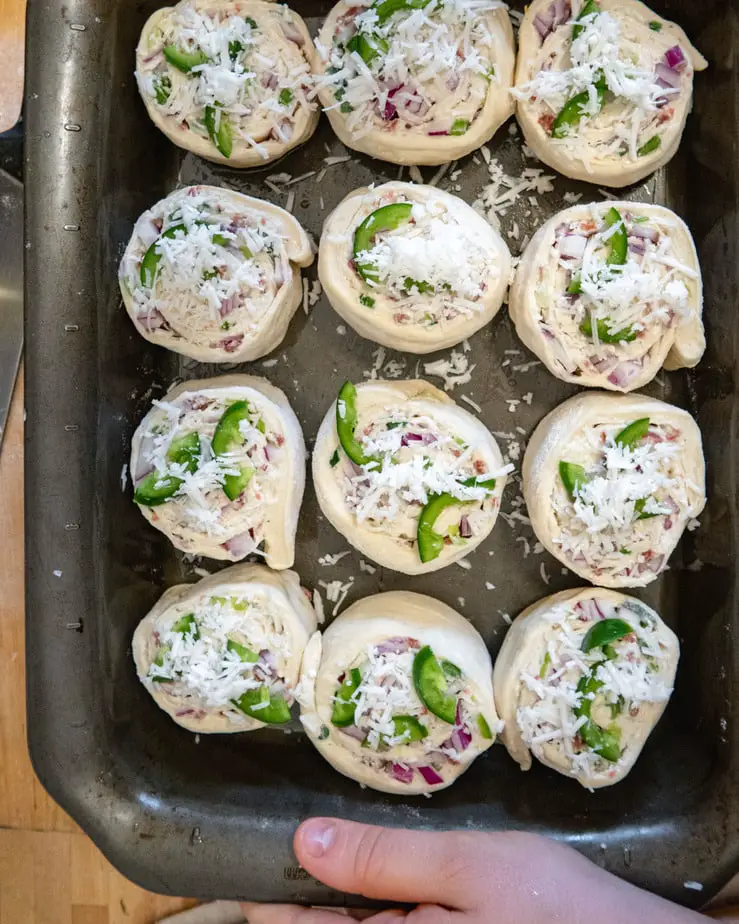 Yeast
No first rise?!?
Since we are using quick-rise instant yeast, there is no need for a 1st rise or even dissolving the yeast in water since the yeast doesn't need to be "woken up". However, if your yeast is old, you can always still disprove the yeast in the liquids just to double-check if the yeast is still alive. 
But while we do not have the first rise but we still need to give a 10-minute break to our do so that the gluten has some time to relax, which will make rolling out the dough much easier.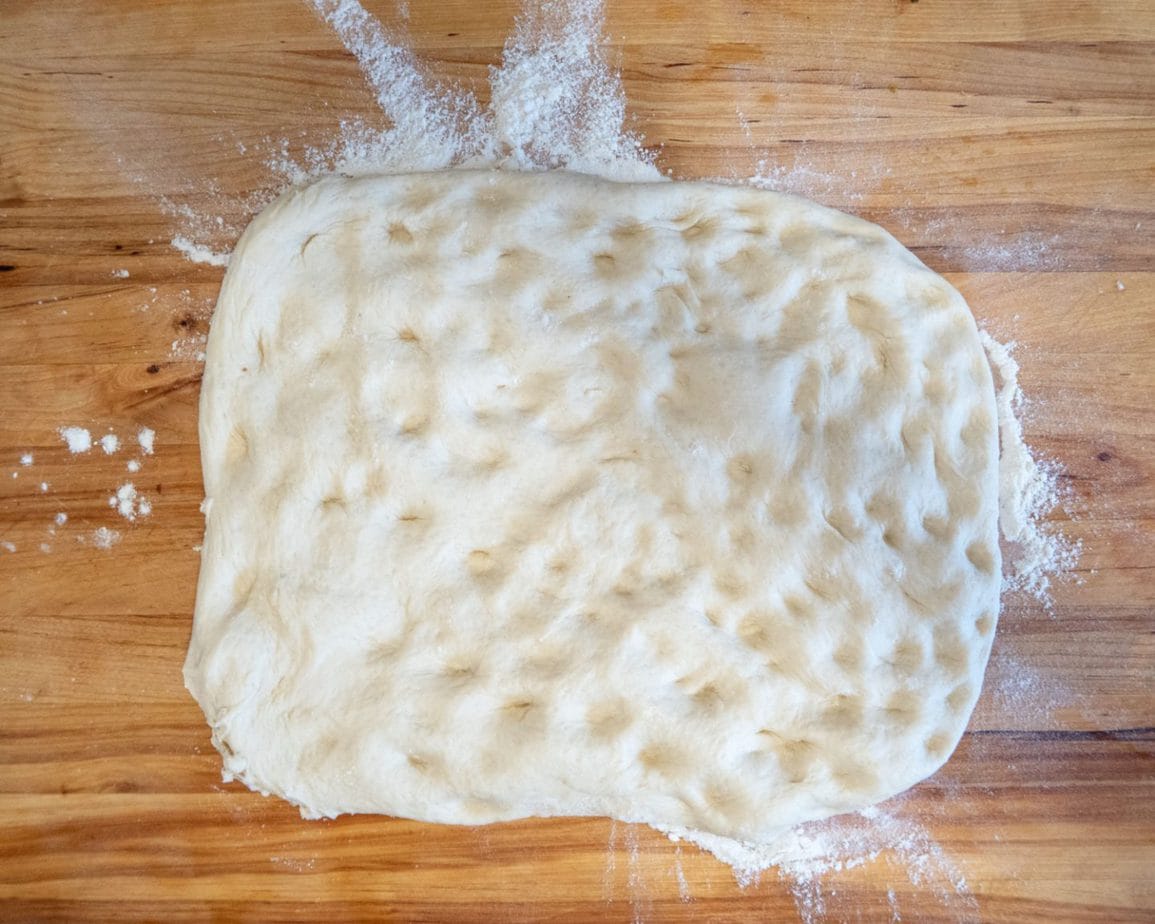 Can I use active dry yeast?
Yes, you can use the same amount of active dry yeast. I love using instant yeast because it is so much quicker and it often saves me hours of resting times, but if you don't have it or can'T find it, you can replace it with active dry yeast but you will need to do a couple of adjustments to the steps.
You will need to activate your yeast in the warm liquids and you will also want to put one of the tablespoon of sugar in the liquid mixture to give something for the yeast to snack on. Aim for the liquids to be between 105° and 115°F (40 and 46C), which is a bit lower than in the recipe.
Once the dough is kneaded, instead of letting it rest for 10 minutes, you will place the bowl with the dough covered with a clean dishtowel in a warm place to rise undisturbed between 1:00 and 1:30, or until the dough has doubled in size.
For the final proofing before baking the rolls, you might need to let the vegan savoury buns rise for 30 minutes more, of course adjusting as needed.

For a lot of great information on yeasts, check out Bob's Red Mill yeast temperature guide.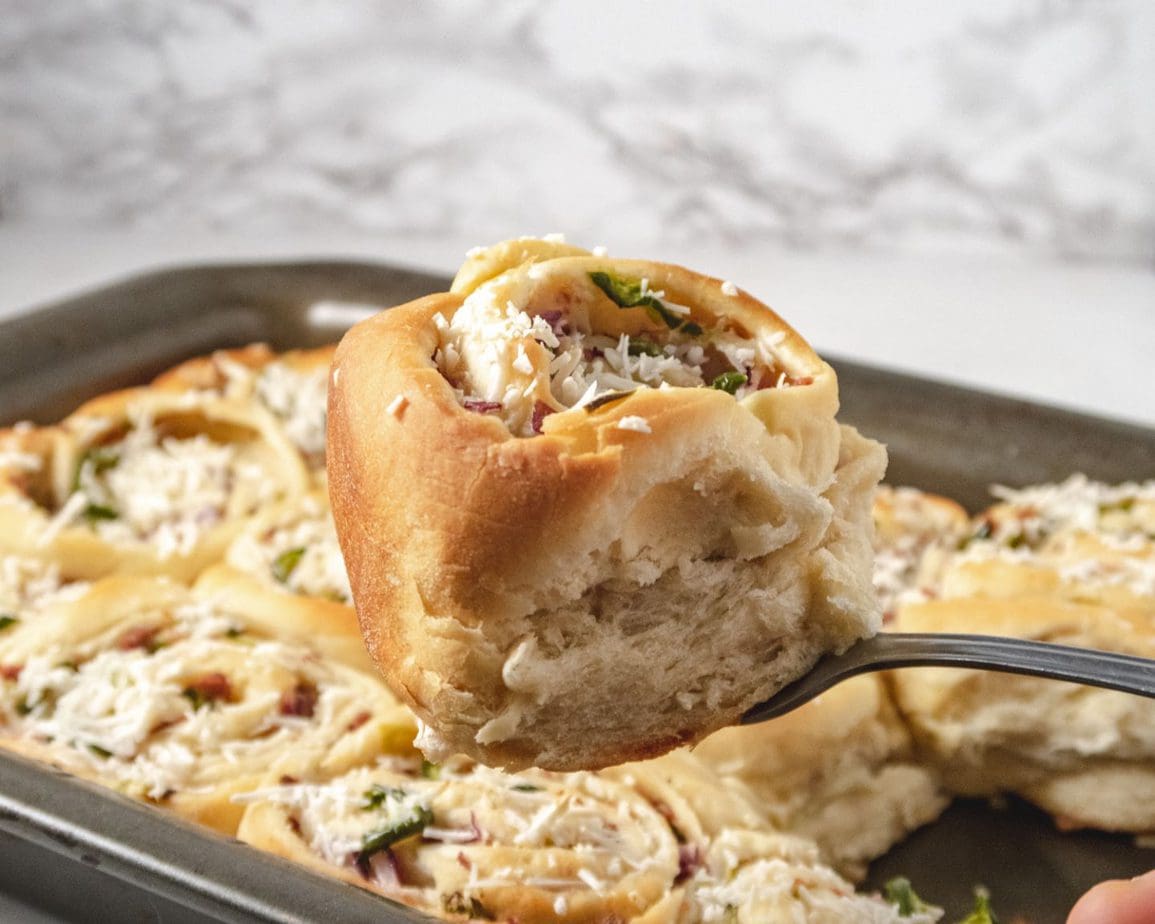 How to cut the rolls evenly?
The best way to have even rolls is to pre-measure each slice and to use the right knife.
Dividing the dough
I find that pre-measuring and marking where I will make my cuts helps me have uniform vegan savory jalapeno rolls. You can use a ruler of course but it can get tedious. A bench scraper with measures on it can also be useful.
My favorite method is to first divide my dough roughly in half by leaving a mark with the back of a knife. Then, I mark each half in the middle again to split the savory roll log into 4 equal parts.
Now all you need to do is split those quarters into 3 slices each, which will give you 12 vegan jalapeno popper rolls. I often don't mark these up since the dough will shift a bit while cutting it so that lets me adjust my slices as needed. So I start by marking where my 4 main division of dough will be and then I cut all at once starting from right to left.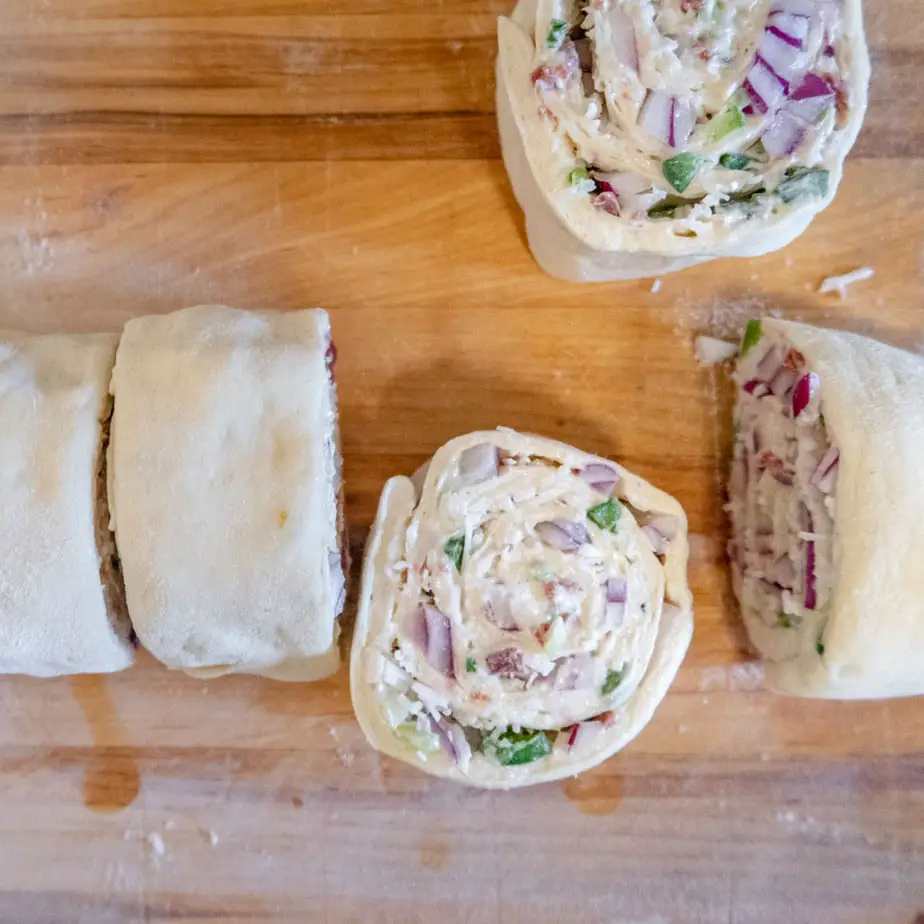 Best Tool
The best tool to make neat cuts is not unflavored dental floss, but a sharp and flexible serrated knife. The longer the better since going back and forth is what makes uneven cuts. Start the cut at the handle of your knife and in a smooth single long motion, bring the knife back toward you to cut each slice. 
A flexible knife that can bend is the best for cutting dough, cakes, and bread since this type of knife requires soft pressure to stay straight and not bend. This means that there is a lesser risk of "ripping" the dough instead of softly cutting it, as this can happen with a stiffer serrated knife.
I've been using almost exclusively my Victorinox Fibrox 12-inch serrated knife since I got it in pastry school and I love it. It's not the cutes knife in my collection but it is, without a doubt, my highest performing knife.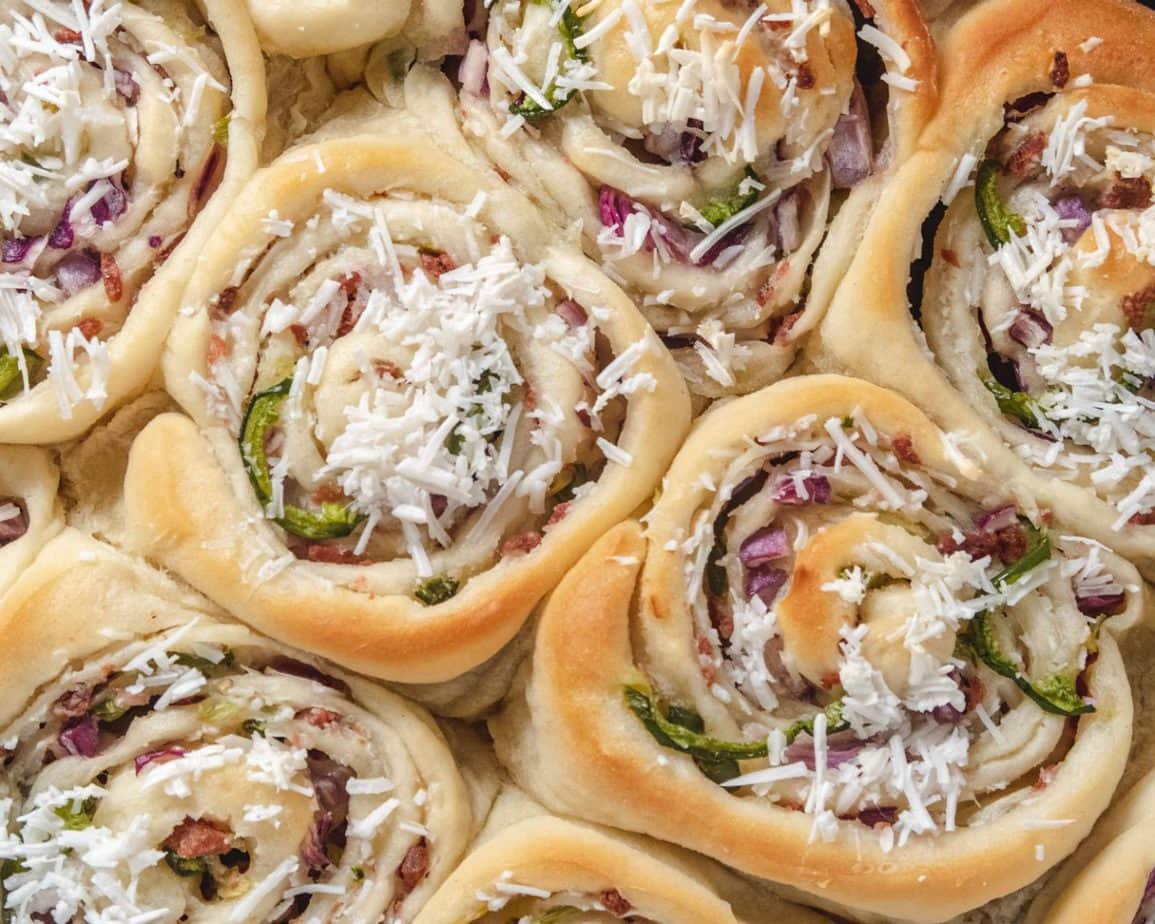 Can I make the dough in a stand mixer?
Yes, absolutely.
The main difference is that you will want to use the dough hook and kneed on slow for 5 to 7 minutes. You might also need to use the paddle to incorporate the ingredients to make the shaggy dough at the beginning depending on your stand mixer.
Recipe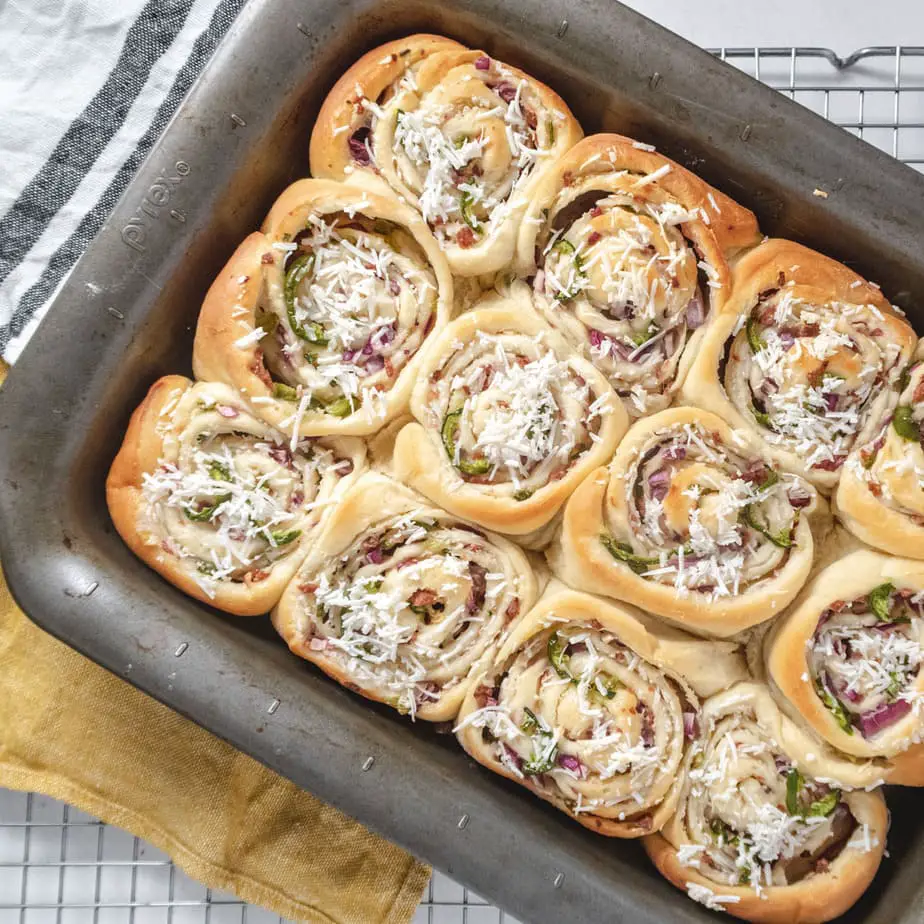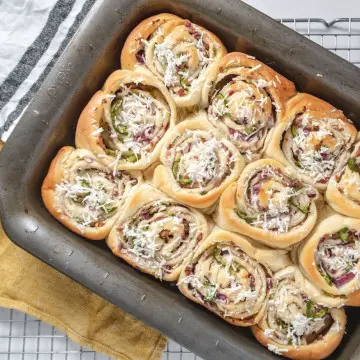 Print
Vegan Jalapeno Popper Rolls
These deliciously spicy Jalapeno popper savoury rolls are tender, crunchy and packed with awesome flavors!
Ingredients
Dry ingredients
480g

(4 cups)

unbleached all-purpose flour

25g

(2 tbsp)

white granulated sugar

9g

(1 ½ tsp)

fine sea salt

6g

(1 ½ tsp)

garlic powder

9.5g

(3 tsp)

rapid or quick-rise instant yeast
Wet ingredients
185g

(¾ cup)

water

125g

(½ cup)

soy milk

, or your favorite plant-based milk

55g

(¼ cup)

vegan margarine
Filling
3 to 5

large jalapeno peppers

, adjust the quantity according to your preferred spice level

112g

(½ cup or 4 oz)

vegan cream cheese

, I use half a container of President's Choice coconut cream cheese-style spread

55g

(¼ cup)

vegan margarine

200g

(1 ½ cup or ½ of a large)

red onion

, finely diced

25g

(¼ cup)

vegan bacon bits

200g

(2 cups)

vegan cheddar-style cheese

, shredded

3g

stalks of green onion

, thinly sliced

Salt and pepper to taste

30g

(2 tbsp)

melted vegan margarine or vegan garlic butter

, optional
Instructions
Dough
In a saucepan, melt the margarine. Add the rest of the wet ingredients and bring it between 120 and 130°F (50-55°C ) ,or the temperature recommended by your yeast manufacturer.

In a large bowl, mix together all the dry ingredients together. Make a well in the middle of the dry ingredients.

Add the wet ingredients to the dry ingredients by placing them in the well previously made. Slowly incorporate the dry ingredients into the wet ingredients with the tips of your fingers or a sturdy wooden spoon to make a shaggy dough.

Transfer the dough to a clean, lightly floured work surface, and knead for 5 to 10 minutes, or until the ball of dough becomes uniform, smooth, and slightly elastic.

Place the ball of dough in the previous bowl and cover loosely with a clean dishtowel. Let the dough rest at room temperature for 10 minutes to relax the dough.

Line a large rectangular 13 by 9-inch (33 x 23 cm) baking dish with margarine, or a light coat of oil.
Filing
Prepare the filling while the dough is resting. With a sturdy silicone spatula, cream together the cream cheese and margarine.

Halve and deseed the jalapenoes and finely dice them. Set 2 tablespoon of diced jalapeno aside for later and mix the rest into the cream cheese. Add the bacon bits and green onion and mix with a spatula until the filling is creamy and well incorporated.

Flip the dough onto a lightly floured surface and remove any excess air in the dough by poking the dough will all your fingers and roughly shaping it into a rectangle.

Roll out the dough to a 12 by 18 inch rectangle, keeping a regular thickness throughout. Place the dough so that the long 18-inch edge is facing you.

With a large offset spatula, spread the filling evenly from edge to edge and sprinkle the red diced onion and 1 ½ cup of the cheese on top of the filling.

Working your way from one side to the other, going back and forth, roll the dough upward a half turn at a time. Try to keep the roll as tight as possible. If there is excess flour on the underside of the dough, brush it off with a pastry brush.

Using a sharp serated knife, cut the jalapeno roll into 12 equal pieces and place them in the prepared pan. Brush the top of each roll with melted margarine (optional) and sprinkle the leftover cheese and jalapeno on top.

Cover loosely the baking dish with a clean dish towel and let the rolls rise for 45 minutes to 1 hour, or until doubled in size. When poked, the roll should bounce slightly back but still leave an indent in the dough.

Preheat your oven to 180°C (350°F).

Uncover the rolls and cook the rolls for approximately 25 to 30 minutes, or until they are golden brown and springy to the touch.

Let the jalapeno popper rolls rest for 10 minutes before serving them still slightly warm. Enjoy!
Notes
Best eaten fresh or 2 days from the moment they are cooked.
Do not freeze, since a lot of vegan cream cheese don't react well to being frozen.
Can be made a day ahead, proofed in the refrigerator overnight, and baked the next day.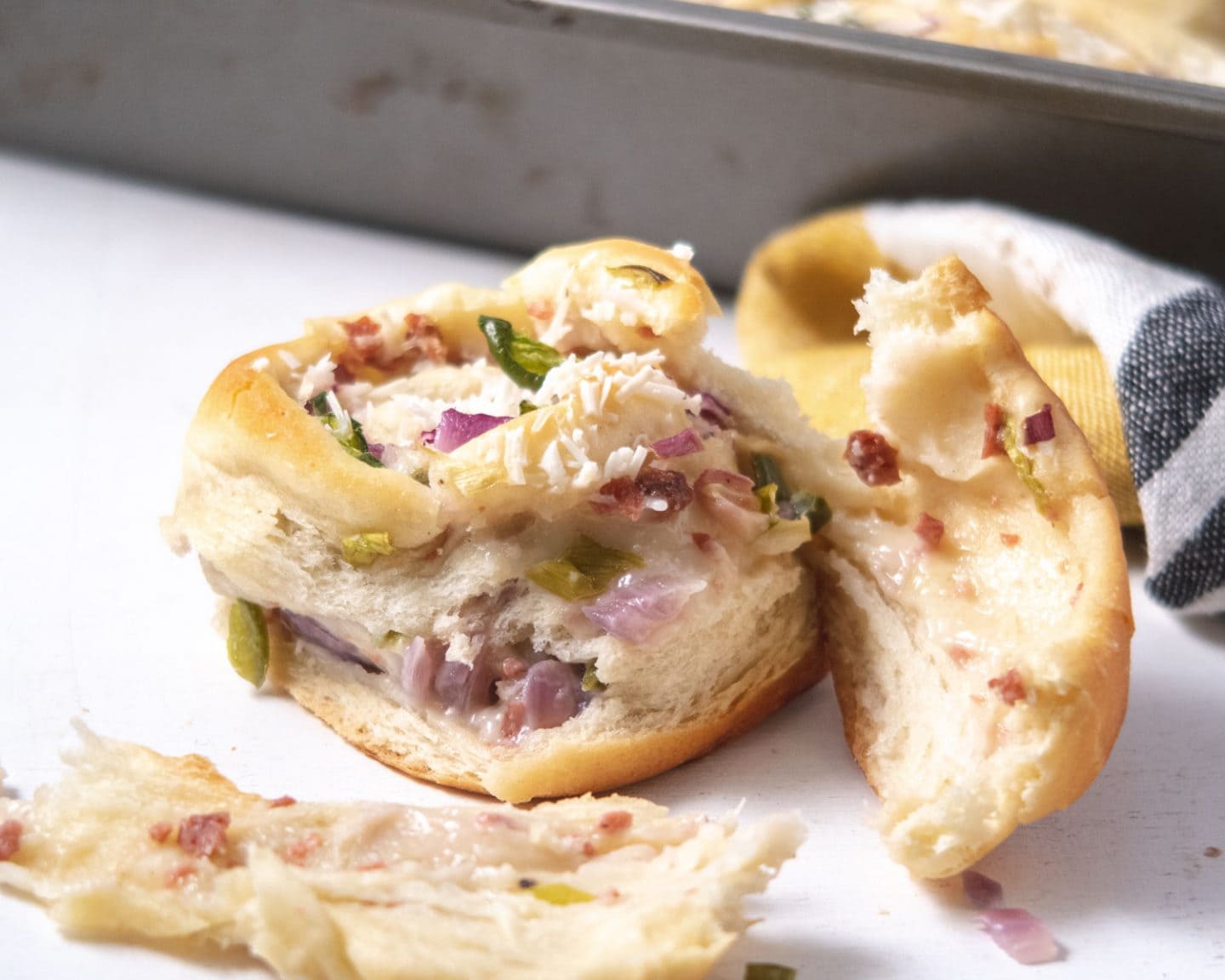 Did you try this recipe?
Don't be shy and let me know how it went! Leave me a comment below and share a picture on Instagram !